How You Can Help The Asian Community
Our letter to the White House publicly denouncing racism
In 2020, OCA Las Vegas was proud to be among a coalition of 188 organizations that co-signed and submitted a letter to the White House, Federal Bureau of Investigation (FBI) and Department of Justice (DOJ) urging them to publicly recognize and denounce the increasing racist attacks and discrimination against the Asian American and Pacific Islander (AAPI) community, in the wake of rising concerns over COVID-19.

OCA's history on hate incidents
Founded in 1973, OCA – Asian Pacific American Advocates is a 501(c)(3) national non-profit, membership-driven organization based in Washington, D.C. with over 100 chapters and affiliates around the country. Like many others within the Asian American and Pacific Islander community, OCA's work with hate crimes began in earnest after Vincent Chin was murdered in 1982 in an anti-Asian hate crime. Learn more here.
Report Hate Incidents
Filing a report with OCA-Asian Pacific American Advocates will help advocacy organizations nationwide fight for the civil rights of all AAPIs. Hate incidents include any acts of hostility or violence, physical or verbal, motivated by bias against race or ethnicity, national origin, religion, gender identity, sexuality, or disability. One example of bias would be assuming that an AAPI individual is infected with COVID-19, or that person's ethnic group is responsible for creating or spreading COVID-19. Even if you are not 100% sure that the incident you experienced was motivated by one of these biases, you should still file a report.
There is no obligation for you to disclose your name, gender, ethnicity, or contact information. If you do not want to disclose this information, please state "Anonymous" or "N/A" when appropriate. You are not required to file a report with any law enforcement agency. However, OCA encourages you to report to law enforcement independently, if possible. View guidelines on reporting hate incidents, and learn more:
Support & Be An Ally
SUPPORT AAPI BUSINESS
AAPI-owned businesses and restaurants are in need of your help now more than ever. In addition to financial struggles faced as a result of the COVID-19 pandemic, discrimination against Asian businesses have unfortunately escalated. Please continue to support these businesses in your local areas.
DONATE
You can donate to organizations like OCA Las Vegas that are focused on supporting Asian American and Pacific Islanders. Your support will help us further our mission, ensure ongoing initiatives, and benefit next generation AAPI leaders who have the power to shape our future and our communities.
SPEAK UP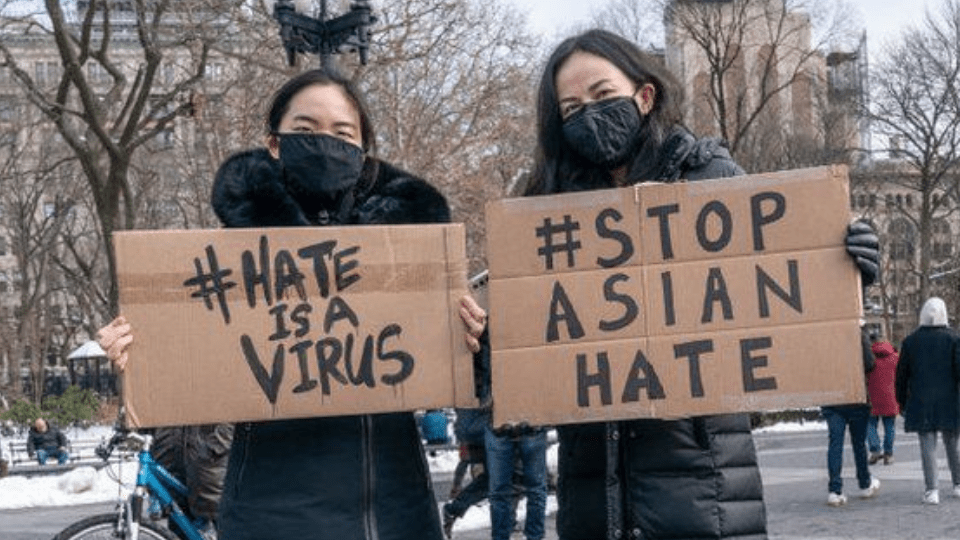 You can do your part to help amplify the voices of the AAPI community. Being an ally means listening, learning, and speaking up against racism — even if it's within your own social circles. Locally, you can also encourage leaders to address and take steps to make positive change on this important issue.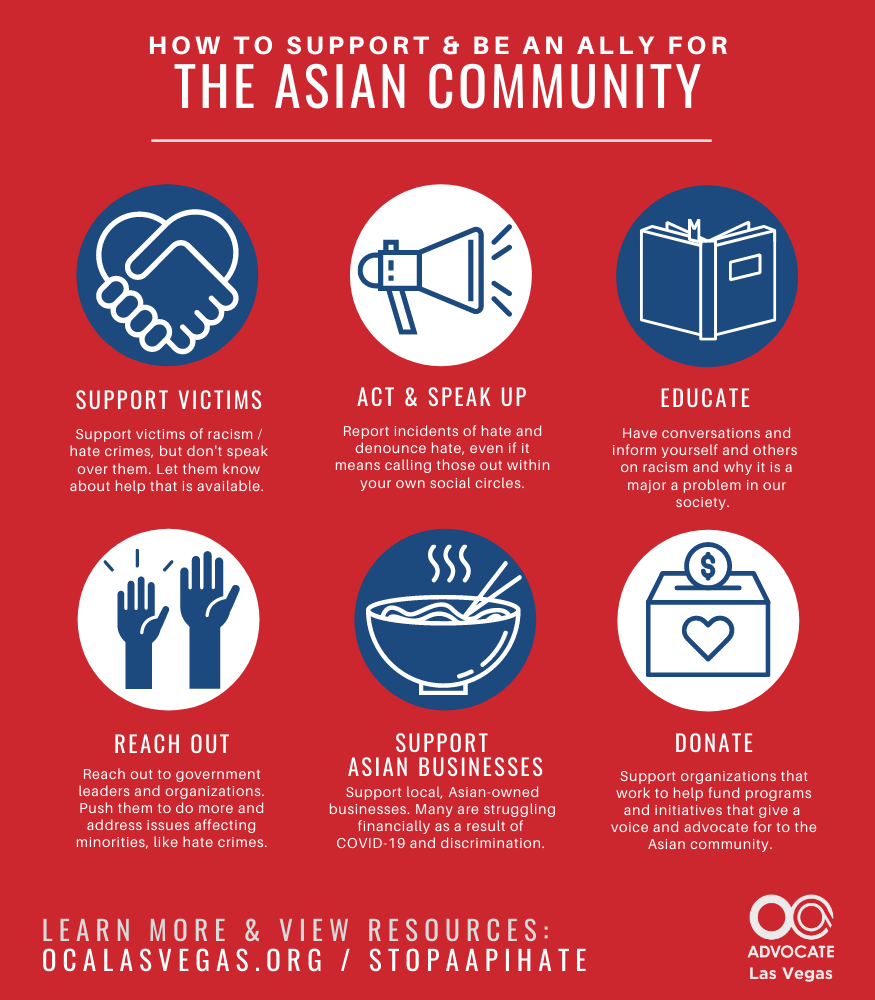 OCA LAS VEGAS IN THE NEWS
Police, AAPI community leaders address possible threats in Las Vegas
Nicole Santero is a board member of OCA Las Vegas. She says the extra patrols provide a short-term solution but also says people need to continue to call out incidents of racism, especially if it's being spoken. "Verbal harassment is a big deal and we know that words hurt and words matter," she said.
Community Resources
COVID-19 TOOLKITS
In light of the need for AAPI communities access resources on how to keep themselves, their loved ones, and other healthy and safe, OCA National has created a comprehensive toolkit with general COVID-19 safety information, strategies to defeat Asian American racial profiling and xenophobia, and more.
Click here to view the full toolkit.
Locally, the Nevada Minority Health and Equity Coalition has also created specific toolkits in an effort to share reliable and accurate public health messages. The include sharable posts and graphics for social media, public service announcements, flyers, and other materials related to COVID-19.
Asian toolkit  |  Pacific Islander toolkit

VICTIM ASSISTANCE
The National Organization for Victim Assistance (NOVA) provides resources and support for victims harmed by crime and crisis. Call 1-800-TRY-NOVA (879-6682).

FEDERAL BUREAU OF INVESTIGATION (FBI)
Hate crimes are the highest prioritized issue in the Civil Rights Program in the FBI. They publish victim's resources, statistics, and other external resources on their website. Click here.

ANTI-BULLYING
If you or your child have been victims of bullying, see the resources page on Act to Change to know your rights and next steps. Resources come in six Asian American and Pacific Islander languages. Click here.

CIVIL RIGHTS DIVISION OF THE DEPARTMENT OF JUSTICE
If you believe your rights have been infringed upon in regards to disability rights, educational opportunities, employment opportunities, housing or credit discrimination, or your immigration status, file a formal complaint with the Department of Justice. Click here.

MENTAL HEALTH RESOURCES
The National Asian American Pacific Islander Mental Health Association (NAAPIMHA) promotes the mental health and well being of Asian American and Pacific Islander communities. View resource information here.

SUICIDE PREVENTION HOTLINE
The National Suicide Prevention Lifeline is a free, confidential, 24/7 support for people in distress, as well as provides crisis resources and best practices for professionals. Call 1-800-273-TALK (8255) or visit their website here.
Learn More
Across the country, there are many organizations that share the same mission and vision as OCA Las Vegas and help to support and advocate for the Asian American and Pacific Islander community in different ways. Take a look at the links below and learn more about some of these organizations.
If you are not from Las Vegas / the United States, we still empower you to do your part, speak up to help the Asian community, and find ways to support organizations in your country or region that share our same mission and vision.
Discrimination against the Asians, Pacific Islanders, and other minority groups is very much happening around the world, and we all must unite and work together to end this issue.